Heavy Metal Wrestling "Bang Your Head" T-Shirt!
00024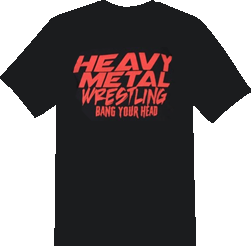 Support the brand! Grab a Heavy Metal Wrestling "Bang your Head" T-Shirt while we've got them in stock! Rep Heavy Metal Wrestling in the most comfortable shirt that you could possibly imagine. It's so soft, it feels like we made t-shirts out of an actual cloud. They're bad ass shirts, man. Grab one now!
If you choose "Available at the Door" for your shipping options, we will hold a shirt for you that will be available at the Heavy Metal Wrestling event! You only need to give your name. If you choose any other option, just pay the extra $3.50 and we'll drop a shirt in the mail for you and it'll be on it's way!